Every seat in the prodigious Tallangatta Bakery was occupied through most of Saturday, as the North East Victorian town's star attraction gave every cent of their takings to bushfire survivors.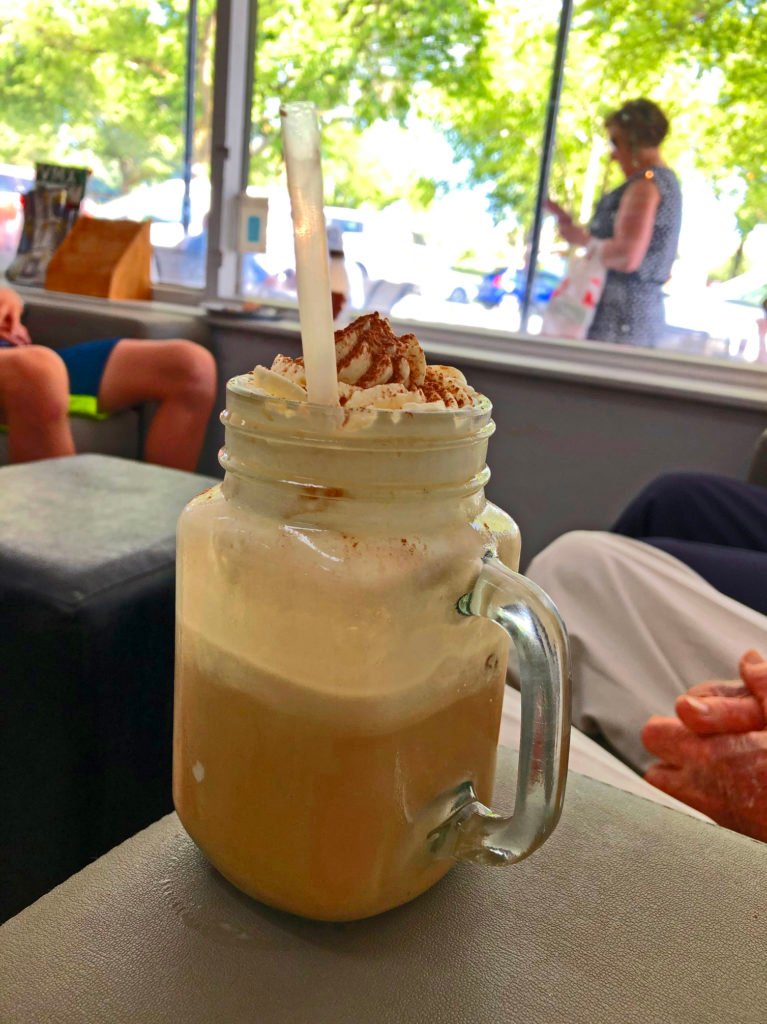 While the town attracts a share of casual tourism, the Bakery's renaissance as one of the region's leading purveyors of coffee and artery-halting cake is delivering relief to the people in nearby valleys who have lost their homes and/or livelihood.
On a weekend when the nation raised an impressive $50 million + from a concert – rounding out to around $2 per head of population, the bakery in one day raised the equivalent of $7 per head, drawing on the generosity of people in the area with a lot less to give than the national average.
Deep in the heart of the fire-scarred northeast, Tallangatta served as the base for firefighting operations, and the hills that flank the town show no sign of the flames which raged through satellite communities. The people chattering over iced coffees, lattes and spinach and feta rolls were a demonstration of the spirit that holds people together in rural communities, even when times are tough.
A new report from ME bank showing a decline in the fortunes of country folk at the end of last year, before the fires began, was a springboard to the opportunity for urban business glitterati to speculate that many people were probably already thinking of moving into the city, far from the firegrounds.
This speculation reinforces the urban myth that regional Australia is in terminal decline, with few job prospects and a bleak future, ignoring the kaleidoscope of experiences and opportunities in individual areas.
Painting rural communities with a common stereotype of misery and decline is one thing, but the high-paid city-centric financiers predicting an acceleration of migration from rural to urban areas also ignore the harsh realities faced by fire survivors.
For those without insurance who have lost their home and/or business, they need to consider whether they move from the local area where they have connections and relatively low priced accommodation readily available for rent not too far away. If they move to the city, many will have no social or work connections, challenges in finding work and affordable accommodation and a massive readjustment in terms of lifestyle.
For those with insurance, payouts may take some months to resolve and will cover the cost of rebuilding – if they are lucky. The most valuable asset may often be the land, which is now charred, often left unfenced, and will be difficult to sell quickly for anything but a firesale price.
Rural people are far more likely to consider moving to other rural or regional communities because of cost, proximity to their network of friends, family and business colleagues, and a familiar lifestyle.
Country Victorian communities are doing all they can to support those affected by fire, but the limitation of aid to those in marked 'burned' on the map ignores the complex network of support and dependence that underpins businesses across regional areas.
A much more significant question is whether the fires have had a significant effect on the number of people interested in moving from the city to the country.
Interviews with 500 young people conducted on the streets of Melbourne by Twig last year found that up to 50% of those aged 18-35 would consider moving to rural Australia if they were connected with the right job opportunity. After a Summer of drought and fire coverage, giving little insight into the promise and potential of rural Victoria, it is likely that this figure will have declined a little.
Perceptions are the most powerful drivers of population change between rural and urban areas in Victoria at the moment. Victoria does not have a strategic population growth or even a population management strategy. This means that the futures of not just fire survivors but in fact, all Victorian rural and regional communities are currently determined by the fluctuating winds of demographic demand – a population marketplace driven by sentiment, misinformation and the amalgam of white noise that occurs when many small, under-resourced regions try to speak up for themselves.
Politicians and commentators have promised not to overlook fire survivors in the months after the fires have passed. It's a nice gesture, but hollow. They have been overlooking the lives, experiences, barriers and potential of rural Australians in general for decades.
Rural and regional communities deserve better. If the border between haves and have-nots is not going to be drawn at the boundaries of our metropolitan cities, then we need proactive policy change and a much stronger voice for rural areas in our national discourse.
The Tallangatta Bakery deserves kudos for not just providing aid for fire victims, but also acting as a catalyst to knit together communities in the periphery of the headlines. Rural communities need to unite to ensure more good stories are told about the diversity of country life in months to come.