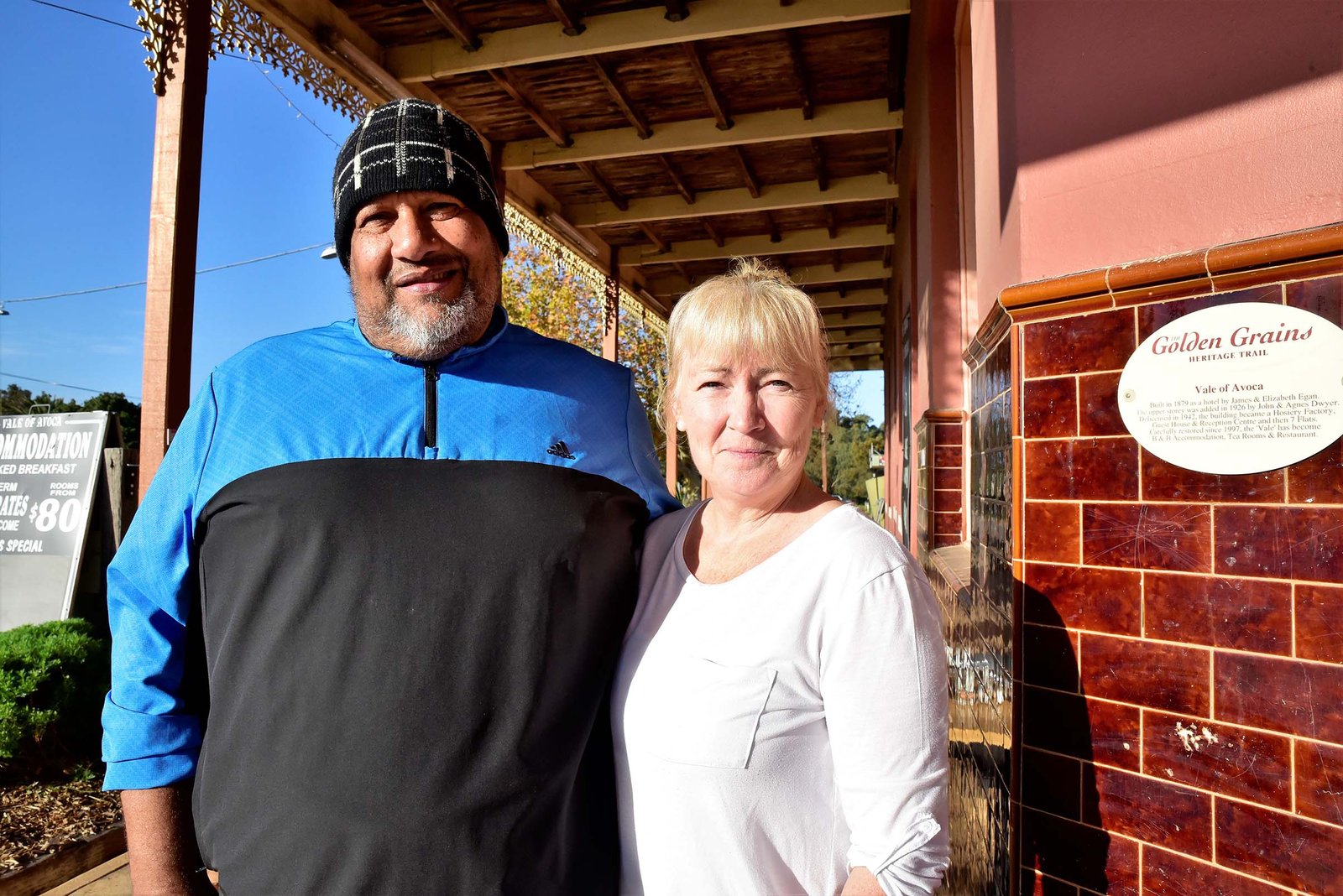 "I was a motor mechanic in Melbourne and I worked with a guy who came from Charlton. He said 'I'll take you up one weekend,' " Benno says.
"When we came I met Carmel. The rest is history."
Benno has carefully seated his powerful frame in a chair in the now quiet dining room of the B&B he now runs in Charlton, The Vale of Avoca.
The Vale started life as a popular pub a century or so ago, and the Dining Room has seen many dances, romances and Significant Occasions in its time.  It has recently been returned to its rightful place at the heart of the town's social life, as an increasingly popular destination for family milestone events.
Carmel remembers going past the building as a little girl.
"I was born here 54 years ago. I grew up in Charlton, but then moved to Melbourne to find a job. I lived with my sister and worked for an insurance company," Carmel says.
"I didn't like it much initially and wanted to come back to Charlton, but Mum said, 'Don't do that, there's no job here.' I met Benno one weekend when I was back in Charlton and we stayed down in Melbourne for 35 years."
Benno worked with a car dealership after his days as a mechanic, helping people work out which car was best for them. You could see he would be good at it, but not necessarily rich. He's eager to engage with any new person who crosses his path, but is also a straight shooter, up front and honest.
It seems a monumental change of pace – leaving behind life as general manager of a thriving car dealership in suburban Melbourne to become the proprietor of a B and B and café – giving life back to an historic double storey landmark pub in Charlton, in the Wimmera wheat belt.
The honeymoon period is still in full swing, just six months into their new business, but so far Benno and Carmel couldn't be happier.
"The move to Charlton is the best thing I have ever done, I reckon," Benno says.
"Carmel's mum had her 85th birthday here and I was sitting in this room saying one day I am going to buy this place, and then before long, it was on the market, and we did.
"I love the country life. The people are great. One thing I really love is when you walk through town and people wave at you. The old farmers put their finger up as they drive past you. And if you don't wave back, they ask you why, next time they see you.
"I love that feeling that they are welcoming you. You can't go to the bank for five minutes, because when you get there, everybody wants to chat, you have to allow half an hour."
Charlton has oodles of country charm, a local cinema, brand new hospital and a growing population of creative people lured by low property prices and the warm welcome of locals.
Carmel said the return to her hometown was welcome, but jumping into a brand new business was a bit of a shock. The Vale was de-licensed as a pub in 1942 and Benno and Carmel were the first to recommission the venue as a licensed venue.
The couple had frequently entertained large groups at home in Melbourne and Benno said the B and B business, café, and bar and beer garden felt like a natural extension of their way of life. The hardest thing to adjust to was a success, as it turned out.
"I had come here thinking it would be nice a cruisy – a couple of people coming in and spending some time doing up the place," Benno said.
"When we opened though, it has been a lot busier than we expected. People kept leaving good comments on Trip Advisor and then the numbers of people staying just grew and grew.

"We can have up to 35 people in the dining room and with the open fire going, it's an amazing atmosphere. We don't want to compete with the pub, we send people to them if they want a pub experience, we just want to have our own spin on what we do – quality food, drinks and friendly service.
"We had no intention of employing people in the first 12 months, we just wanted to take it slowly, but we have three staff members already, it has just exploded."