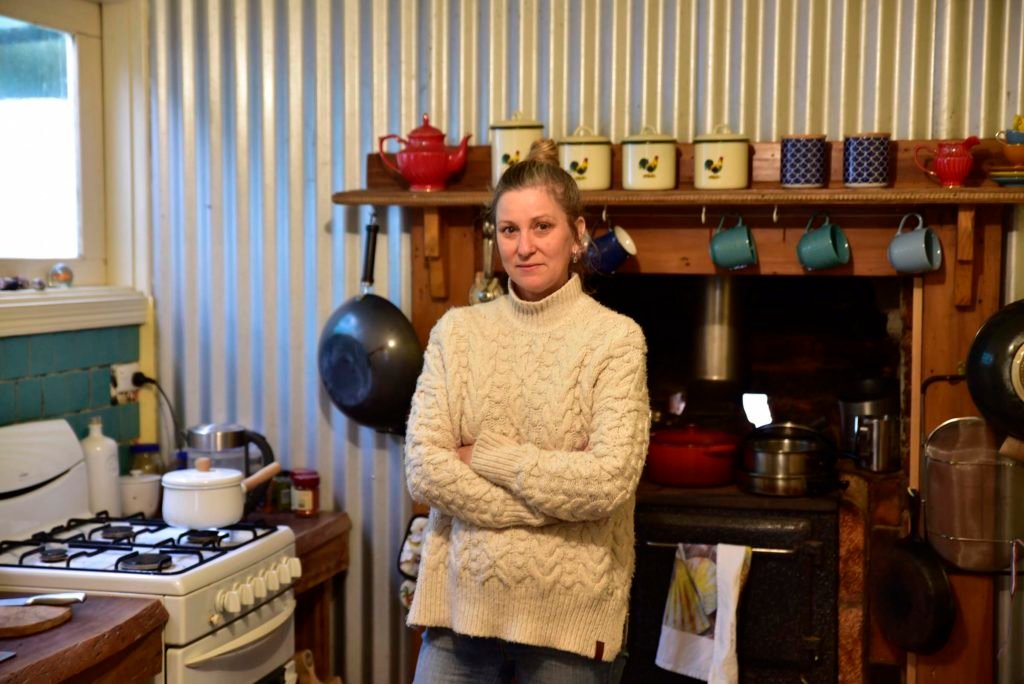 The discovery of yellow metal at the foot of Mt Bealiba in 1856 created a town of 12,000 desperadoes, but when the gold rush left, the town buildings remained and the quiet returned.
The little-known town of Bealiba has become progressively quieter, with pubs and most shops closing, as farming families moved away or travelled to nearby Dunolly for essentials.
Now just the tiny post office remains in the main street – but that's just how Tenar Dwyer likes it.
"After growing up, I lived in Sydney for about 10 years, working for a communications agency and raising my daughter, and then moved to Adelaide for a while," Tenar says.
"It was like a big country town, but I couldn't crack through to connect with people. I moved back to Melbourne and put together a little bit of money to buy a house, but only a little, and I started to look all over Victoria for towns in my price range.
"I had completed a Fine Arts degree at RMIT and looked first at Castlemaine, but it was way out of my league and then I saw this house for $110,000 in Bealiba.
"I missed that house, but started to find out more about the town and when this house came onto the market, I bought it three days later.
"I had driven through towns this small before and thought, 'Who'd live there?' but then I arrived and it turns out that the answer is 'me!'
"The people here are so lovely. I had a kid lose control of his car and go through my front fence and before I knew it, the whole neighbourhood came here and dragged the broken materials away and then the kid rebuilt the fence.

"In the city I didn't know my neighbours and I always felt so isolated, but here, every single person has been really lovely, really welcoming.
"I had imagined some country towns might not be welcoming unless you were born as a local, but it's not like that at all here.
"Because house prices are so low, it's attracting a lot of artists to the area. My dad and sister live in towns that aren't too far away, and it's not too far to Melbourne, so that my son can keep in regular contact with his Dad."
Prices remain super affordable in the town. Right now, for just $79,000 you can buy a one bedroom camping shed on 10 acres, complete with native trees and a dam in Bealiba, with room to move and create an ultra-quiet weekender.
At the back of Tenar's house, she inherited an artist's studio, with a window that provides the ultimate artistic exchange – beautiful light illuminating the interior and a gentle bushland vista as the artist looks outside from her easel.
The bushland still bears the scars of diggings, creating undulating mullock heaps now thick with native bush, but Tenar values the surrounding bushland for a living bounty.
"I love food foraging in the bush – you would be surprised how much you can eat," Tenar says.
"I use the Weed Foragers' Handbook to help identify what to pick and it's a great way to keep living expenses down, eating weeds from the bush."
Tenar hopes to exhibit and sell her works on the Tiny Towns Arts Trail next year, and can be found in the studio each day, expanding her body of work.
"It's so affordable here, you can take life back, whereas in the city all I was doing was working to live," she says.
"My son is enjoying it just as much as he enjoyed life in the city and I have found so many likeminded people here, it's fantastic. There is an arts collective in Dunolly, an Arts Hub, a Central Arts Collective and a range of other arts activities close by.
"I hope I spend the rest of my life here. I love the fresh air and being able to go out in my garden and do whatever I want. I love the fact that it's affordable – you can live really frugally and quite well. I live better here than when I was in Melbourne.
"The local historical society runs out of the old town library and the historic railway station has been renovated and is open for visitors.
"Although Bealiba is a long way out, it isn't as isolated as it might first seem.
"I feel far richer here than I was when I was earning an executive's wage in Melbourne, because the quality of life is so good."