Lives have been irrevocably changed for the better in a small northeast Victorian town through an innovative program that turns a spotlight onto the cultures and cuisines of residents.
It's only when you meet some of the people whose lives have been radically transformed by Tallangatta's Neighbourhood House multicultural program that you really begin to appreciate the scale of its impact.
Initiated in 2018 with a goal of celebrating the diversity of residents in the town, the Multicultural Tastes of Tallangatta program offers the chance to a local from another country to share a sample of their life and their food with local residents. Each month a new resident takes their turn to teach locals how to make a favourite dish from their home country and then, while it is being devoured, they deliver a quick verbal and pictorial snapshot of their homeland.
After decades of being predominantly populated by residents of European stock, the small northeast Victorian town of Tallangatta has begun to welcome new residents from many other parts of the globe.
Micro melting pot
For a town that has long struggled to hurdle the 1000 population barrier, Tallangatta's leafy streets and lakeside position, just 40 kilometres from the bustling hub of Albury-Wodonga have proven attractive to people from around the world.
While people new to the town have sometimes found it a challenge to settle into a new social circle, the program has had a tremendous impact with thrusting newcomers into the heart of the community.
Lou Newman, Neighbourhood House coordinator, said that even in a town the size of Tallangatta, people appreciated the opportunity to get to know their neighbours a bit better.
"Some of the hosts of the program have made really good friends, some are giving piano lessons, some said they didn't know people in town and now they do - they are feeling more confident and like they are part of the town," Lou says.
"For those who come to the town they get to learn where people come from and experience some of the language."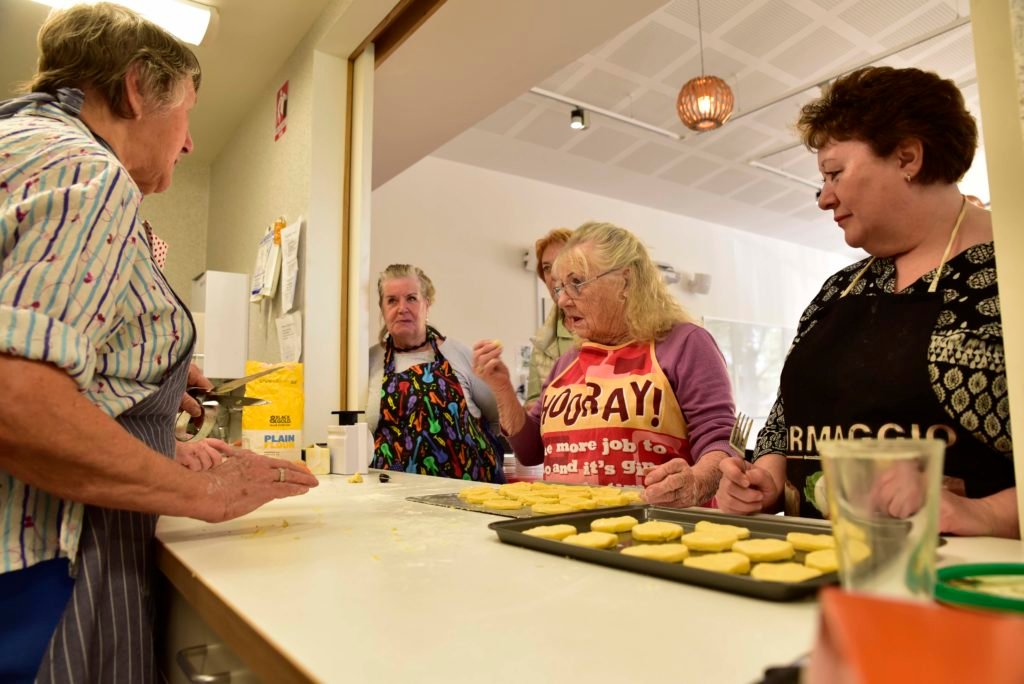 Introducing neighbours
The impact is perhaps best explained through the stories of three women from radically different backgrounds, who each moved with their partners to Tallangatta over the past 18 months.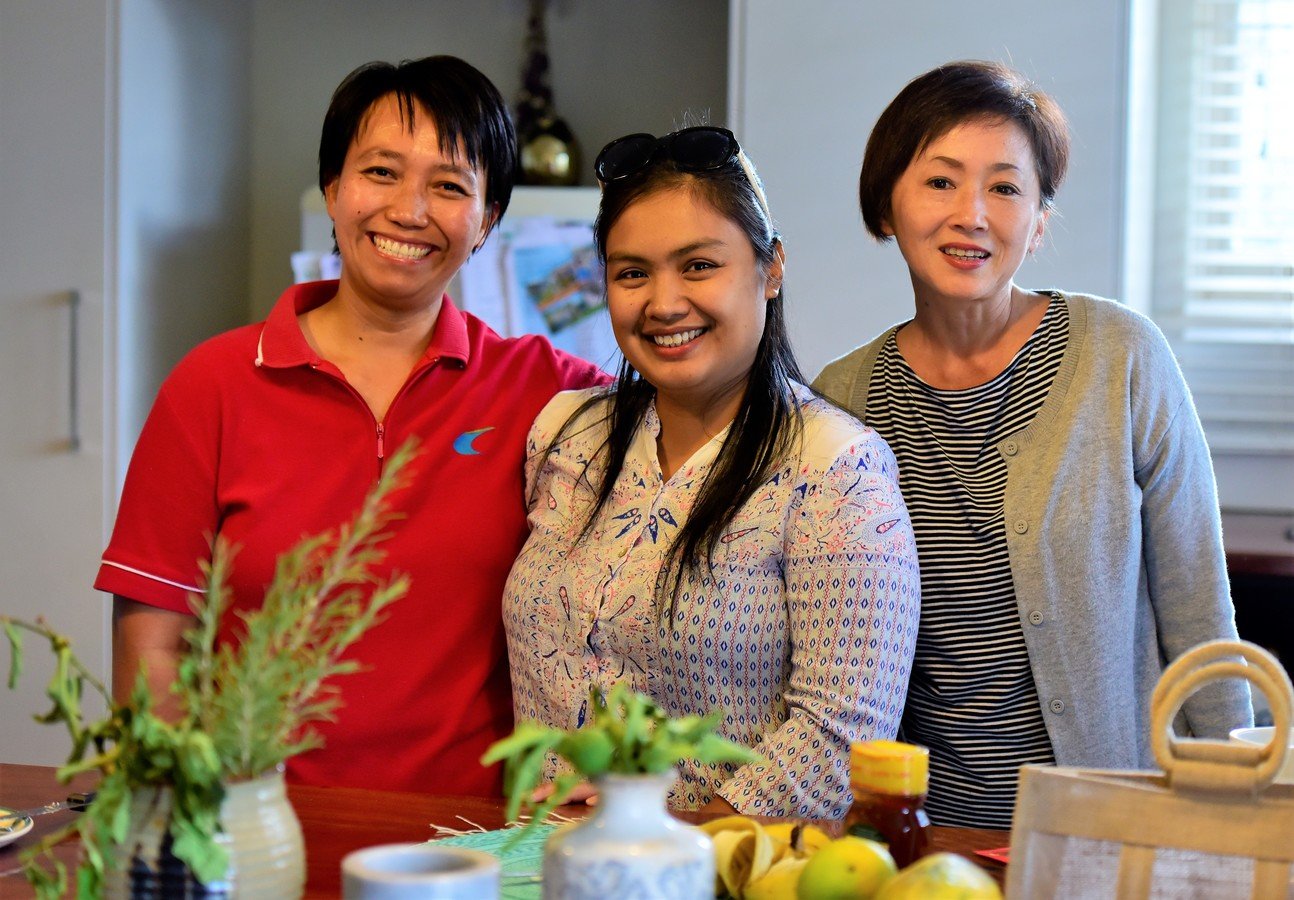 Madé (pronounced Mah-day) was born in Bali, but fell in love with an Australian teacher and lived first in Portland, then Mitta Mitta, before she found a new home where she could create her beloved garden overlooking a lake. Lemongrass, banana trees, mangos and chillies have created a tropical feel in a garden once dominated by hydrangeas.
Fumiko (pronounced Hoo-miko) hails from Japan and has lived in a number of places, before settling in her husband's home town. She found it hard to find friends when she initially moved to Tallangatta, until the multicultural program introduced her to her new best friends.
Effa (pronounced, well Effa) is Malaysian, married an Australian man and after living in Tamworth, left behind the golden guitar at Australia's country music capital and headed south.
All three women, with partners, children and faraway families had settled in Tallangatta by early 2018. All tended to spend much of their time in the sometimes-isolated realm of home life, until they were, in turn, invited to take their place at the front of the room in the program.
The women did not know each other and had each faced a sense of isolation and a lack of recognition as newcomers, but have now had a sort of second homecoming; finding each other and also being warmly welcomed into the community with the chance to celebrate their culture and histories.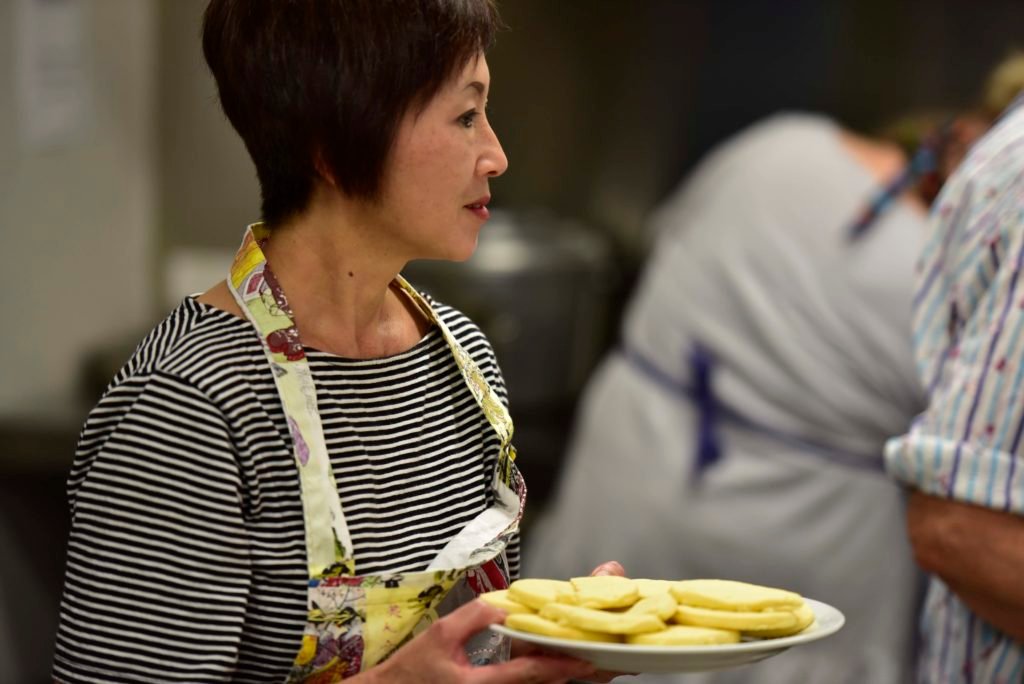 Program impact
United by food, families and the experience of long and varied international pathways to a common destination, the strength of the bond that has been forged between the women is immediately obvious. Laughter punctuates most sentences when they are together.
"When I moved to town I didn't enjoy it, because I imagined people weren't friendly," Fumiko says.

"Then the program helped me a lot and I now I really enjoy it and I love living here, because I met some nice people and I think this is a beautiful place," Fumiko said. She now attends each program,  teaches piano and voice to students in town and visits Madé most days.

"The cooking program was the start, my life changed," she says.
The program had a similarly transformative impact for Effa.
"I do want to see other people, but I am just shy and I worry about my English," Effa says.
"When I was asked to participate in the program I thought this time, I have to have a go, and I did the multicultural cooking program and enjoyed it so much.
"Everything has fallen into place since then, the school is good for my children and then I met these two beautiful ladies at the cooking program."
"A lot of people in town didn't know where you are from or about your culture and its good to share with them. It brings you together."
Madé and Fumiko have almost completed a TAFE cooking course and Madé is currently studying aged care, with a goal of completing a nursing degree in future.
Madé works in the local aged care facility. She is working with other local people she has met through the multicultural program to provide courses on gardening, sharing her passion and expertise for all things horticultural with the town. All three are now involved across the community.
"I am so surprised there are so many cultures living in a town like Tallangatta, it is amazing," Madé says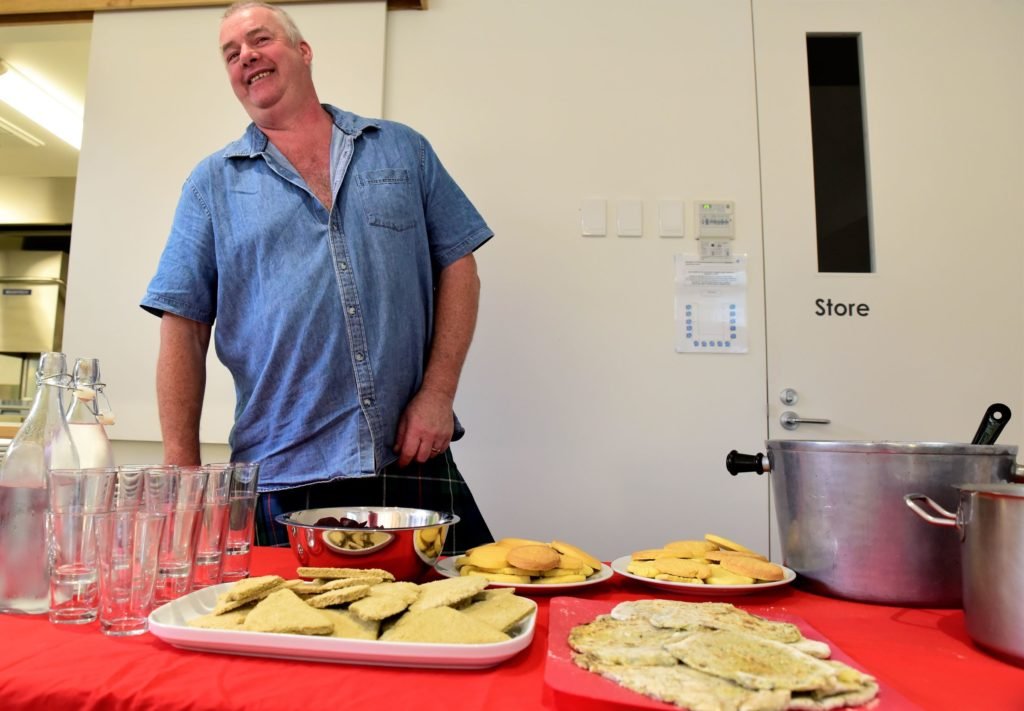 A roving spotlight
In a recent talk, the focus shifts to Scotland for the month. Alex talks about growing up in Findochty, a tiny Scottish village beamed from Google maps into the Tallangatta Community Centre.
He talks about how Findochty was dry, with the community avoiding alcohol until recently, after the locals came out of a church meeting one day and decided to shut the local pub. He recalls how women would carry men out to fishing boats on their backs, keeping their husbands dry for a little longer before they set out to sea, because it was so cold in the fishing boats.
While the assembled group eat a hearty Scottish meal, Alex says that while Findochty has modernised, he identifies a lot of similarities between the faraway town he was raised in and his new home, in Tallangatta.
"When I look at Findochty on Facebook, I see exactly the same issues, people complaining about the shire, and other things."
Plates are then packed, pots scrubbed, and the town has provided a new sense of home to another individual and another culture.