Just months after he landed a part-time teaching job at Taradale Primary School, Chris Burgess was handed the job of acting principal, in charge of just two students.
Just seven years later, he has 75 students and leads a thriving school which plays a key role as the heart of the Taradale community – but it hasn't been an easy road.
Chris had built a career teaching in Melbourne for decades, shuttling between a house in Carlton and a weekender in Taradale, before finally making the decision to move permanently to the country town, just over an hour from the big smoke.
When just two students enrolled for 2012, Chris had to decide what to do. With no rule book on what to do and little guidance, it would have been easy just to close the doors and move elsewhere, but Chris was not going to shut the doors of a key hub in his local community without serious discussions.
"I didn't exactly know what to do, but the census indicated there were 35 children of primary school age in this post code, so I set out to find out where they were going and why they weren't choosing Taradale," Chris says.

"I talked to families who weren't sending their children here and there was a perception that children at the school were allowed to behave poorly, that the school was broke and the high turnover of staff meant there was never any certainty of who would be teaching from one year to the next."
The schools finances were fine, but 100% of staff had changed for the previous four years in a row, and there were clearly perception issues to be resolved, so Chris called a community meeting.
"Living in the town, I could see there was a place for the school – it was a community that was starting to change, with more families moving here.
"I said that if you want a school, fine; if you don't want a school, fine, but it won't re-open. We addressed a lot of the perceptions that people had about the school. Having a school in a town is an important community hub. Community members get to know each other from pickup and drop off, then if they don't know each other they are less likely to join the CFA or participate in the town festival."
The community wanted the school to continue, but the meeting didn't change enrollments. There were more animals than students in the school in 2012, as Chris pressed on with a curriculum encouraging students to experience new forms of learning, learning from looking after chickens, sheep and calves.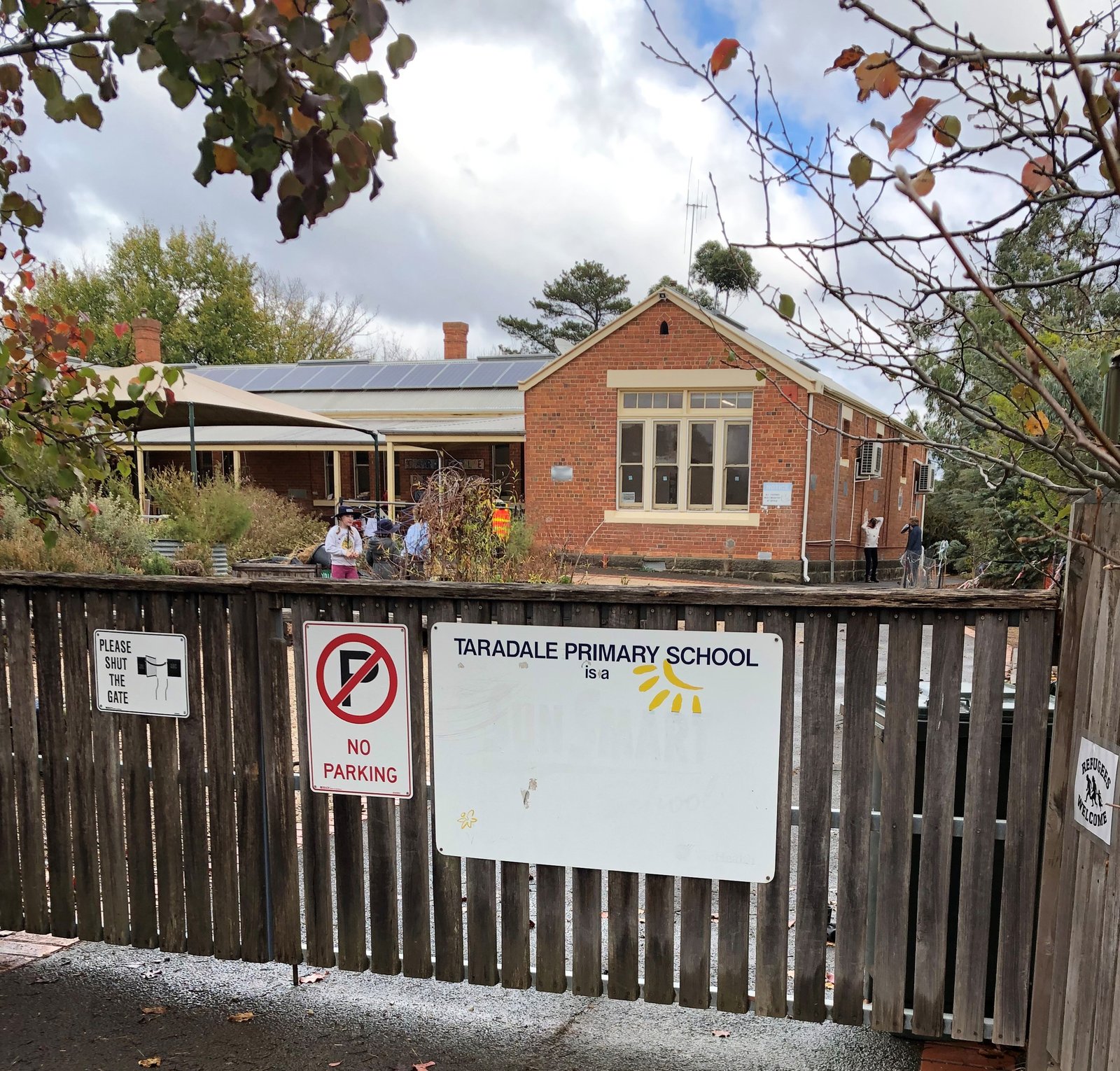 In 2013 and 2014, enrollments   rose to five, but Chris persisted, putting in a small garden to show things were happening at the school, encouraging the community to use school buildings for events and meetings to encourage visitation, and providing space for a preschool program, in the hope that some children would start to move from preschool to the school.
He met with parents wanting a Steiner stream, telling them he couldn't accommodate a Steiner program, but could provide nature-based learning experiences, and won a few more hearts and minds, then also met with parents of home schooled children, offering experiences at school for a day or two each week to extend the social circle of their children.
The tireless push to build Taradale Primary into a school that the community can be proud of worked. This year 75 students are enrolled in the school, attracting not just students from the local community, but also families from nearby towns, drawn to the hands-on nature-based curriculum, and the beautiful Taradale environment.
"Families who come to this school value education, but also want their kids to be happy," Chris says.
"We now have four classrooms in operation, four full-time teachers, three part-time teachers and we are the largest employer in Taradale. It's been really good for the town."
For more information visit the Taradale Primary School website.