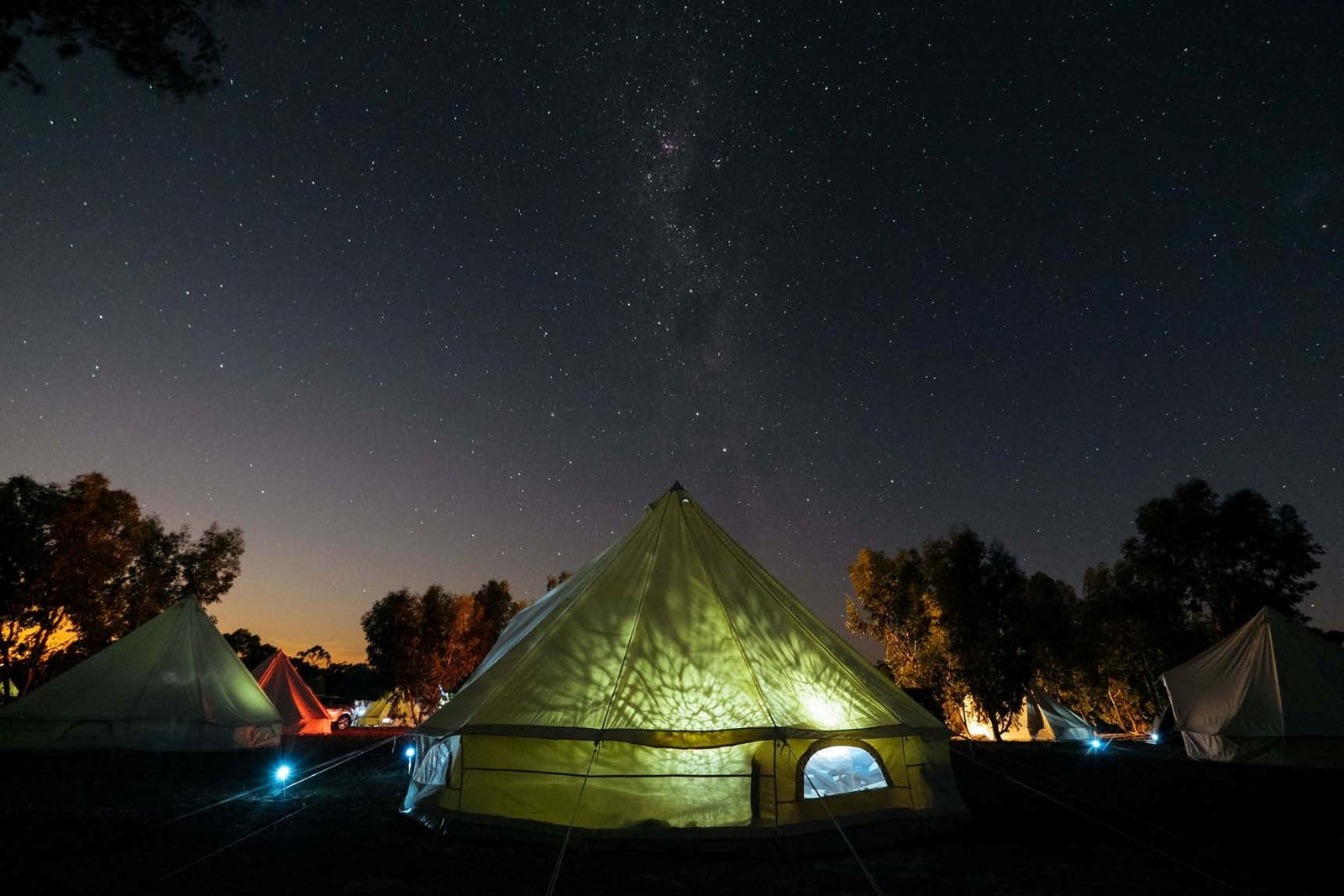 Glamping is the wrong word for what Sharon Maloney offers in a cluster of majestic tents next to a serene mini lake just outside of Nhill.
After earning a slew of awards in film, working with a host of names including Al Gore to create ads and documentaries that have shaped public perceptions, the Managing Director of inner-city production darling Tribal Media Makers is happily perched on a folding chair, miles from the nearest latte.
Drawn to the natural habitat of the Wimmera first by a documentary and then by romance, Sharon moved to Nhill with a clear focus on the community being a weekend-only commitment, but has deliberately wound down her city presence to focus on her new project – providing camping experiences in the surprising and delightful oasis she has created on her Wimmera farm.
Nhillbilly Farm is set amongst 100 acres of old-growth trees, surrounded by the late-like plains of the Wimmera, and the Little Desert National Park, providing a luxury camping experience for residents seeking a temporary reprieve from urban life.





Sharon's photos of jaw-dropping sunsets and long-exposure images of warm-lit tents against the Milky Way have already generated a cult following, and the fact that guests currently get the whole camping area to themselves when they book in, regardless of the size of their group, means that there is a chance to have a wonderfully intimate experience with the environment.
"At the moment I only take one booking at a time, because having the place to yourself and your group is part of the magic. This place lends itself to having groups of people here and we have had birthdays, dinners, weddings," Sharon says.
"I call this place the million start retreat, because at night, the sky is just incredible.
"It's an ever-changing landscape that I have really come to appreciate. My job has taken me all over the world, but I would always be moving on to the next place – whereas setting up Nhillbilly Farm has enabled me to really appreciate the changes you can witness in one place."
Sharon moved to Nhillbilly Farm after falling in love with a local man, Lofty, but only on the understanding that she would return to Melbourne frequently for work.
She continued to make films in Melbourne and commute for five years, but after the couple decided to wed, the preparations for the event changed her connection with the area.
"People would roll up six months before the wedding and ask how they could help. There were farmers with big 20,000 acre farms picking up sticks to clean up before the wedding. It was phenomenal, the support we had – and have," Sharon says.
The wedding was to occur at the farm and Sharon tackled it as if it was a big film set. Tents were imported from China and erected, before being equipped with high quality mattresses and dressed with linen. A massive sculpture was welded from rusting iron implements as a wedding arch beside the picturesque, bore-fed lake and an open air toilet block was created from ageing stables.
The four-day wedding celebration attracted a blend of film-makers, actors and local friends in a memorable celebration – and provided Sharon with the infrastructure which she now lets out to campers as Nhillbilly Farm.
The result is an experience that upmarket tents, fine linen and a dose of quiet air alone can't buy – it is like the experience of being on a filmset, escaping to a retreat of relaxation, creative observation and inspiration.
Sharon has plans for further accommodation, food and events on site, in between creating sculptures to enliven the Nhill streetscape and a photographic exhibition, which is bound to inspire a generation of patrons for the Nhillbilly experience.
"I have been very lucky in my career, and have had some great experiences, but nothing quite like this," Sharon says.
Photo credits to Sharon Moloney
For more information visit Nhillbilly Farm's Facebook page.