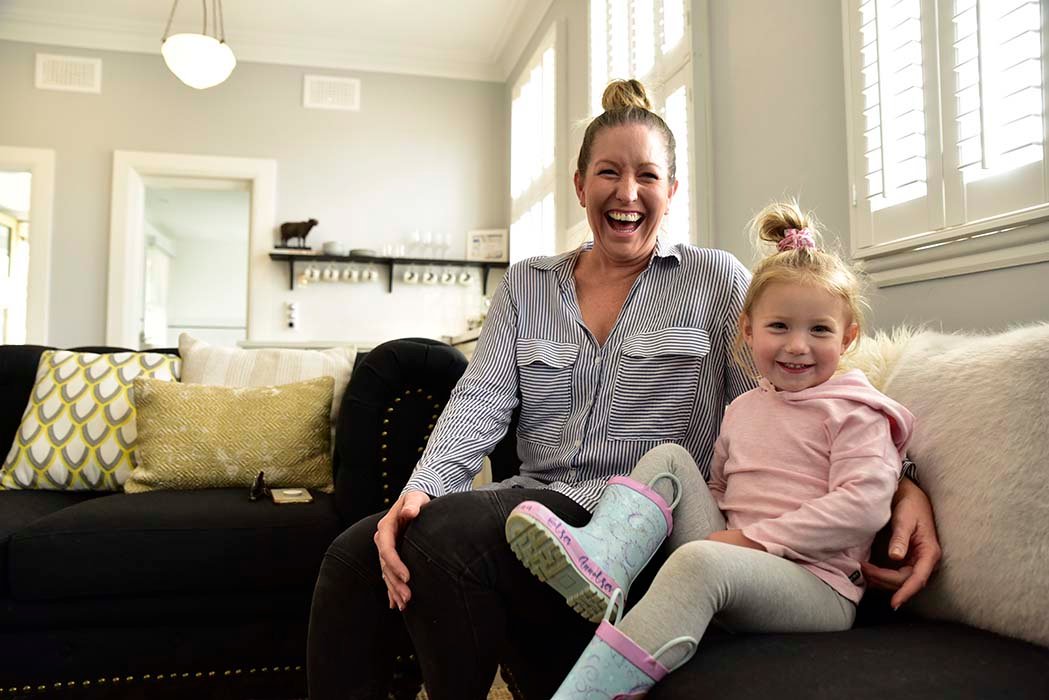 "It was a little bit horrible" Letitia Edwards says.
The realestate.com ad for a derelict butter factory in Gunbower, 25 minutes North West of Echuca, had caught the eye of her fiancé Jon, but didn't match her plans for a dream home. Daylesford was as far as she was prepared to travel beyond Melbourne's city limits and then, there was the fact that the enormous property was in an advanced state of decay.
"My initial response was,
'NO, not a chance, are you serious?'" Letitia recalls.
The first visit to The Gunbower Butter Factory didn't do much to sway Letitia's vote. They were welcomed by waist high grass, overgrown gardens, filthy walls, no ceilings and a large family of possums.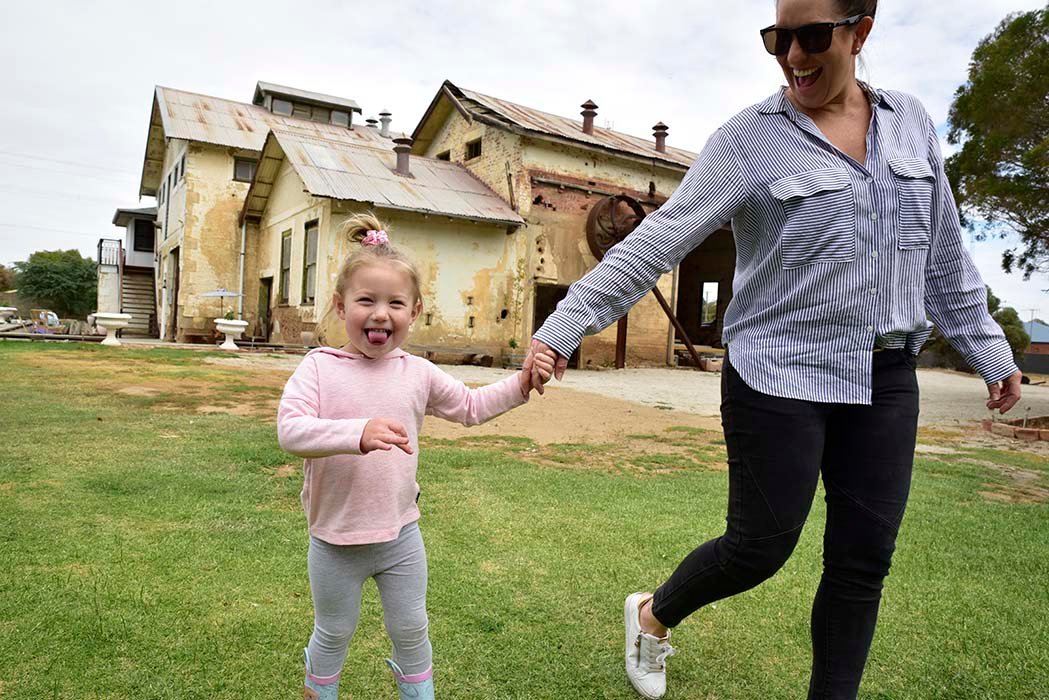 With daughter Frankie just eight weeks old, the project was overwhelming, but Jon could see the potential and had a vision.
Jon's many fond memories of camping along the Murray River with his late Pa had the derelict building captured in a nostalgic glow.
"When we finally decided to take the bold step and purchase the factory we came to the first of many road blocks," Letitia said
"The bank wouldn't lend against it, as it was high risk. In the 11th hour our home in Perth sold and we were on our way."
Jon, working Fly In / Fly out in Western Australia, moved across first, shoring up the roof, plugging leaks and starting the renovations, before Letitia, also a keen renovator, moved across joining him at the Gunbower caravan park.
"My first visit to Gunbower after purchasing the butter factory I went in search of a coffee. At The Workshop Coffee Shop I found a great coffee and also Hollie – a glowing ray of sunshine," Letitia says
"Hollie came around the counter and said, 'Hey, you must be Letitia, and this must be Frankie,' and gave us a massive cuddle. Hollie introduced me to her sister Ellie (second ray of sunshine) Jon had told them we were coming to town and she proceeded to introduce me to everyone in the café. Then she invited me to join them that night for a girls' night, a 40th birthday celebration.
"I said I was at the caravan park and Hollie said, 'We know, we saw your car there; we'll come and pick you up at 6.30pm.'
"Gunbower is the sort of place that gets under your skin very quickly. There's a lot of young families, they welcome you with open arms and I think once they saw that we were both hard workers and keen to do something positive with the butter factory, they really accepted us into the community.
"One of the absolute benefits about living in the country is making connections with people in real time, face-to-face- not chatting on Facebook or social media.
"Spending less time in traffic you have time to be creative and to think outside the box and respond to nature and your surrounds."
Constructed in halcyon days when small dairy farms revolved in hubs near local processing facilities, the butter factory had churned the region's dairy production for decades. A massive boiler at the rear of the property supplied Gunbower's electricity needs. However, by the time the family bought it in 2017, The Gunbower Butter Factory had fallen into ruin.
Two years on, the couple have created a beautiful home surrounded by 1800 square metres of lush lawn, leading directly to the Gunbower Creek, where they are visited by turtles, ducks, kookaburra's, galahs, the occasional platypus and many other species of Australian wildlife.
The once derelict factory is now stunning, with the couple deftly keeping the best of the patina yielded by age while creating stunning showcases of interior design within.
An impeccably furnished apartment has been carved out of office rooms at the front of the building and the rustic factory floor offers an extraordinary venue for weddings and functions.
The property is already popular as an accommodation destination, but in the longer term, the family plan further renovations to turn it into a unique wedding venue and retreat destination. In the meantime, Frankie has acres of lawn to explore and many waters to fish before she starts at the popular and recently redeveloped Gunbower Primary School, about one minute's walk away.
"Many years ago I lived in Elwood in Melbourne and loved it," Letitia says.
"What I have since realised is that I loved the connections I made there; the local grocer, the café, the hairdresser, the local bar. That's what I really valued – and that's what living in the country is all about. It's what I really love about living here."
For more information visit "The Gunbower Butter Factory" on Instagram or Facebook.