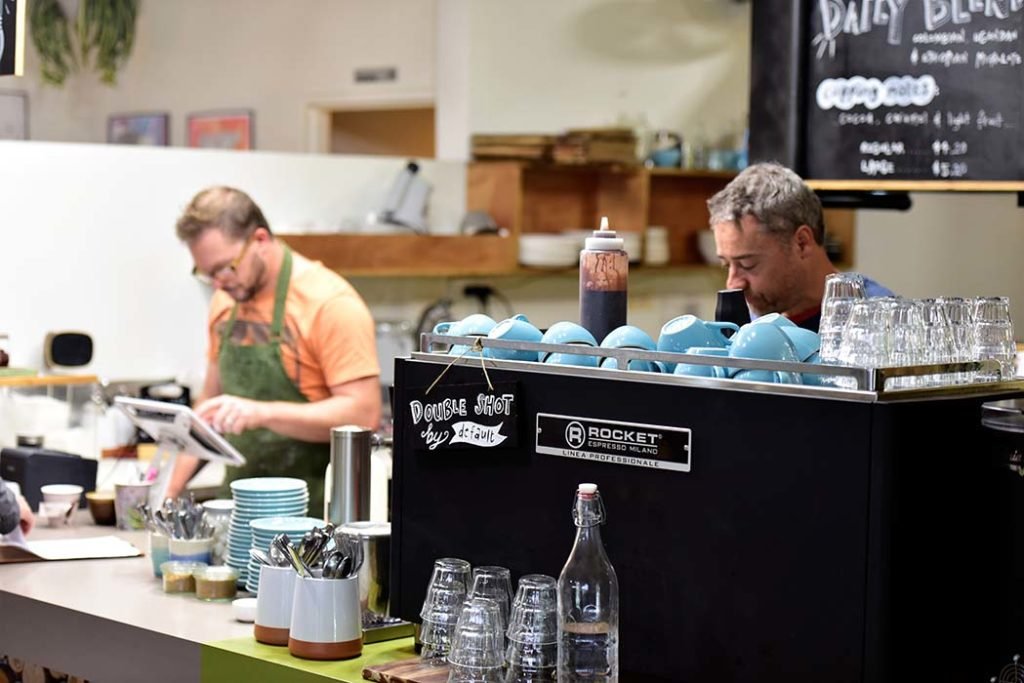 The dream of a seachange doesn't usually include spending your days in an industrial estate at the back of town.
In Apollo Bay, where the regular population numbers just 1500, but peak Summer population runs at 10 times that, the daily cavalcade of busses and motorists heading along the Great Ocean Road used to mostly see just the picturesque main street, with retail on one side and the mighty ocean on the other.
Beautiful, but busy.
Creating a café space in the back blocks of town that would lure in scads of locals and visitors on the basis of an authentic warm welcome and a fanatical approach to the care, warming and grinding of coffee beans was not entirely deliberate.
It began with a garage sale.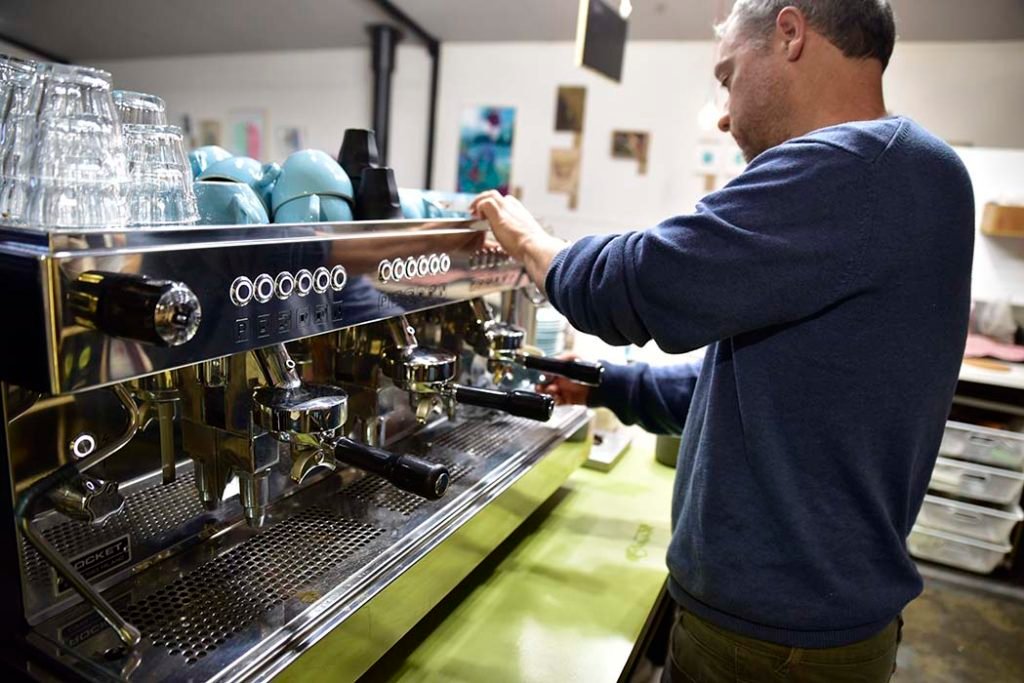 Justin Arthur had thrown in his job at a thriving advertising agency, leaving behind urban lattes, catered corporate meetings and the expenditure of his best waking hours in an office sandwiched by a dreary commute.
He'd moved with his wife to Apollo Bay with no deep connection to the town, but an abiding love of the beach and a willingness to begin a new career direction by running an accommodation business.
One weekend, his wife came home and said he should drop by a garage sale a few doors down, because she knew straight away he would like the selection of goods on offer.
Gareth Williams had moved to Apollo Bay a few years earlier, was teaching in the now-renowned Apollo Bay Secondary School and offered a hand and a 'hello' when Justin arrived a few minutes later.
Neither can remember if purchases were made that day, but the two soon became firm friends. Each were emigres from the city, with two-child families and a love of, amongst other things, coffee. Independently, they had each scoured their local environs in search of an acceptable morning brew, but had come up wanting.
Undeterred, they began researching ways to roast their own beans and when a commercial roasting machine came on the market, they rented a truck, drove it back from Melbourne and installed it in Gareth's mother in law's basement.
As their blends were perfected, and the hospitable pair offered a cup to visiting friends and relatives, demand grew organically and before long, they were spending evenings and weekends feeding the roasting machine and dispensing bags of beans to a faithful following.
In 2014, with demand ratcheting up, they needed more roasting room, and rented the cheapest space they could find – an industrial shed in Apollo Bay's business park. The café was added at the front, just to raise awareness of their coffee and provide a relaxing space where the community could gather.
Five years on, Hello Coffee is Apollo Bay's worst-kept secret, with rave reviews on Facebook, Bean hunter and TripAdvisor but ever the innovators, the team have moved beyond the café, turning their much-loved café space into a new small business hub for local micro businesses.
"We moved to this shed so that we could roast more coffee and shared the space with a builder, but when he moved out, we decided to set up the café, so that people could try our blends onsite," Justin said.
"We now provide coffee to 10 clients just in Apollo Bay area alone and hope to grow the roasting side of the business.
"The great thing about starting a business together is that you have someone else to face the challenges with.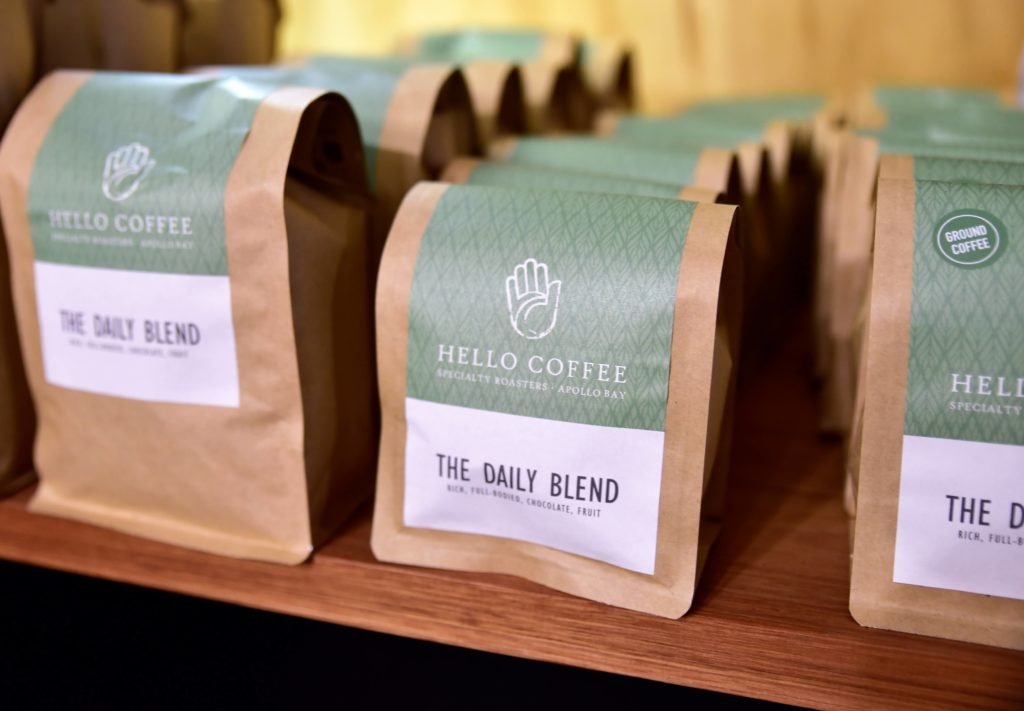 "Now the café is developing as a small business hub, we want to encourage others to join us in setting up businesses in the area. They can come to the space and hot-desk for minimal rent – and most importantly for any start-up, will always be assured that there will be great coffee at hand whenever they want it."
While clearly masterful roasters, the pair are models of humility. While the business has steadily grown on the basis of their roasting genius, their commitment to the community and also to the welcome provided to every customer is equally important in their success.
"There are smaller markets to serve in rural areas, so you have to be a bit creative in how you approach your business," Gareth said.
"There are only about 3000 permanent residents within a half hour drive of Apollo Bay, which means that we need to find ways to tap into visitors as they come past, but also to look after the local community as well.
"It's really important to be ready to adapt to what the community can offer and also what you want to give in terms of the time and energy in building a business. In a small town you can't just arrive and unpack a prefabricated business model and wait for it to work – adaptability is really important.
 "The business hub will be a chance for us to help build a community of people interested in sharing ideas on how we can all grow businesses and build a stronger, more diverse economic platform for our community."