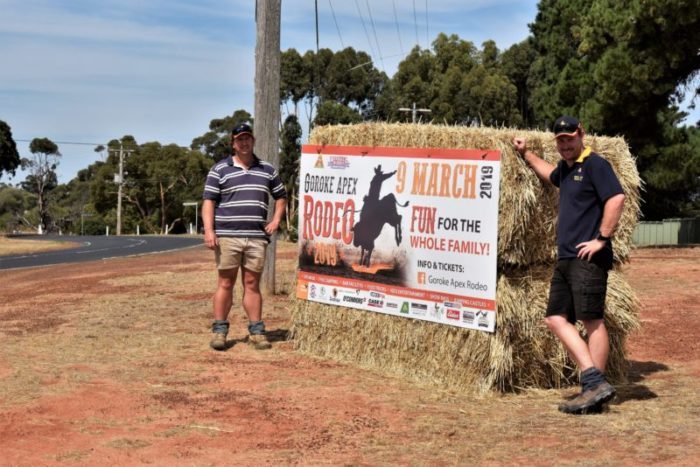 It's been a quarter of a century since the tiny Wimmera town of Goroke has seen the stamp of a hoof in anger, but next weekend, thousands of visitors are expected to descend on the town for the Goroke Rodeo.
The town's population halved to just under 300 between 2011 and 2016, but those who remained have fought back to reclaim the pride of the town – with the community-run rodeo the latest move by the Goroke Apex Club to rekindle the town's fortunes.
The Goroke Club is Australia's largest, involving more than 10% of the town population and through a dogged commitment to their community, they hope the event will raise thousands of dollars for community initiatives.
"I was eight when the last Rodeo ran and when we were looking around for a really special event to attract more people to Goroke and turbocharge our fundraising at the same time, it seemed a logical event to resurrect," Apex Club President Mr Jarred Lowe said.
"Local businesses have been amazing, they have just about all contributed to the $19,000 we have been able to put together for prize money – making it one of the best-funded rodeos in the region.

"It's a huge amount of work from the Committee to put the Rodeo together and now we're really hoping that we can put Goroke back on the map for enough people to make it a success."
Despite the small population, the area's thriving community spirit has meant that Goroke Apex is now recognised as the largest in Australia, with fundraising efforts enabling the Club to rebuild facilities such as a brand new playground in the middle of town – but there are many more initiatives to fund on their
list.
The club runs a range of events through the year, but late last year, decided that if they were to start to raise the sort of funds the town needs to thrive, they had to think bigger – thus the idea of resurrecting the rodeo, which was last held in Goroke in 1994.
The town's population halved between 2011 and 2016, but the local community spirit is reviving hope for the future of Goroke. Apex club members represent 10% of the town's population – but many are also members of the local CFA and SES.
Mr Lowe said the club had donated around $50,000 to a range of projects including the playground in 2018 and aimed to beat that sum this year.
The Goroke Rodeo will be held at the town's showground on Saturday, March 9, with free camping, food trucks, a bar, jumping castle and live music.
"We wanted to bring people into town and show them what our community spirit can do," Mr Lowe said.

"Hopefully more people will see the huge potential that Goroke has – and what can be achieved when a community really wants to make some change."
For more information on the Goroke Rodeo visit https://www.facebook.com/GorokeApexRodeo/