It's as close to fishing heaven as you could imagine.
For the price of a single space car park in Melbourne, you can buy a jetty and boatshed on the beautiful Glenelg River at Nelson, tuck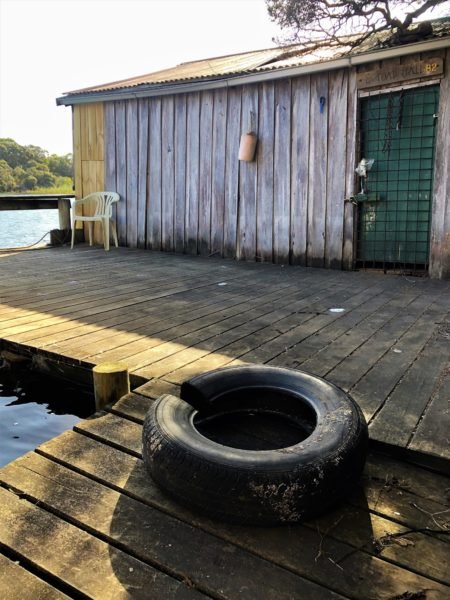 ed just inside the Victorian border on the Shipwreck Coast.
Nelson's boatsheds have all the character and secret-society charm that you could ask for, with the sheds actually built over the river itself, providing rustic year-round shelter for historic cray fishing vessels, modern speedboats, and a broad assortment of dinghies, canoes and other watercraft in between.
The entrance to most sheds is unmarked - with bushland screening a carefully-concealed spaghetti of tracks and steps hewn into the sandstone river bank, providing access down to each aquatic micro-empire.
After half an hour of searching, it's possible to navigate between the few numbered sheds to get a clear bearing on the riverscape and the lifestyle that your own rivertop boatshed and landing can afford. Old deckchairs await their owners on many deserted decks and most sheds are firmly locked, with large rusted chains ready to afford access to key holders.
While bathing boxes are a well-known feature of Port Phillip Bay, rivertop boatsheds offering you the chance to sail right inside a covered housing for your vessel are a rarer commodity in Victorian waters and are highly valued by the few that are aware of Nelson's hidden charms.
Renowned as a fishing town, Nelson also has a great local pub and pristine front beach, marking the endpoint for the increasingly popular Great South West Walk, which connects Nelson to Portland along a spectacular 250 kilometre coastal trail.
A number of enterprising boat shed owners have turned their above-water havens into rudimentary double-story hideaways, equipped with solar power, pristine air and a parade of passing fish. Sure, it's a good 4.5 hours from Melbourne, but for those with a light-ish wallet and an adventurous spirit, that's surely part of the charm.
Visit the Nelson tourist information website for more information about the town or read more about the boat shed for sale right now that could be your next dream destination.
For more information about Nelson visit https://www.nelsonvictoria.com.au/