It was a big transition to move from an inner-Melbourne terrace with a courtyard to a sprawling modern home in the middle of a spectacular sub-alpine 100 acre block in Victoria's northeast.
A big transition, but not a hard one.
Bron and Jeremy Dwyer's farm in Nug Nug, 15 minutes out of Myrtleford, looks just like a movie set. The house they have built in the middle of a green paddock, is in an awesome natural amphitheatre, bounded on three sides by mountains studded with alpine bushland.
"We had been in the city 20 years but had both grown up in the country and when this block came up, it was 10 times the size we had been looking for, but we just absolutely loved it," Bron said.
"Mt Buffalo is at the back of the block and on another side, there is this amazing rock face that I look at out my office window all day. There are big open paddocks and a creek running through it – it's beyond anything I thought we might have.
"As soon as the settlement went through, we couldn't get here quick enough."
Jeremy had grown up 7 minutes down the road, so knew the area well and the close proximity of his parents to their only grandchildren, Holly and Patrick, was a big bonus. While Patrick is yet to grow enough to be able to roam far, Holly, aged 2, has already found her feet.
"When we lived in Port Melbourne, she liked footpaths, but didn't really like walking on uneven ground. Now, she runs on the grass across the paddock in her bare feet, loves running up and down the hills and has really come out of her shell socially – the move has been awesome for her," Jeremy said.
Bron works as an environmental specialist with an international firm and was able to negotiate to move her office from central Melbourne to the front room at Nug Nug. The decision of Telstra to install a new phone tower nearby proved critical to the move – providing a strong enough network connection to be able to work effectively from the farm. In order to make the move work, she spends two days each fortnight working in Melbourne, but says the commute is a small sacrifice.
"I think I am more social now than I was when we lived in Melbourne," Bron says.

"I spend time catching up with a range of people each time I head down to the office."
Jeremy, an electrician and project manager, has shouldered responsibility for raising the kids since the move. One of the challenges of moving to the country was the availability of work, and sometimes lower wages – although lower costs of living made a big difference to the family budget.
Jeremy could take on roles that suited his skillset in Albury and Wangaratta, which would require some travel, but those options remain on the horizon for now, as he is committed to caring for Holly and Patrick while they are young.
With the kids yet to start school, and a few extra kilometres from his broader social network, Jeremy decided to join the Buffalo River CFA, to both extend his social circle amongst neighbours and to get involved in an organisation which is critical to the lives and farms in the area.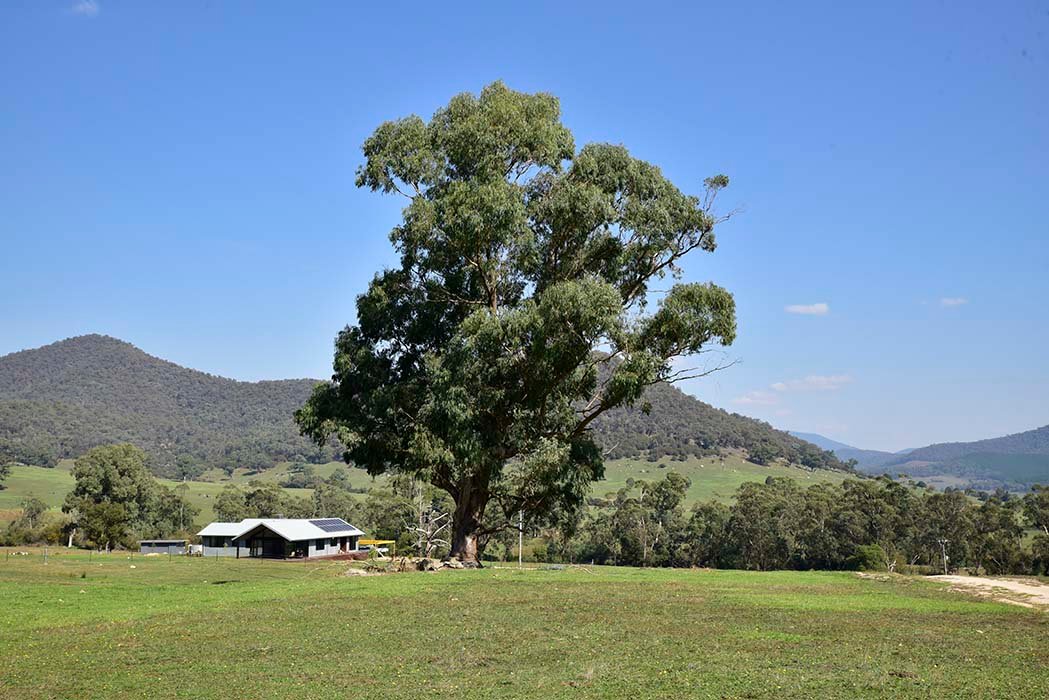 The joys of living a life better attuned to the seasons is also keeping him busy, particularly because it is their first year in their new country home.
"I'm madly trying to build the carport so we can get the wood in before it starts to get wet," Jeremy says.
"We have hydronic heating in the house powered by the wood fire. Rather than paying to go to the gym, we are going to get fit and healthy by going out and getting the wood and doing a range of other jobs around the block.
"Meals aren't the highlight of our life any more. Now it's fuel that we consume so we can get back outside and enjoy the block some more."
"Bron goes into her study to start work at 8 o'clock and each time she comes out at 4.30 or 5 and I say, 'How was the traffic darling?'"
They both smile at the contrast of trees over traffic. Jobs may change and the children will grow, but after carving out a new life in their own home, there's no celluloid required – they have created a stage set to act out their own story.
"It was a big effort to relocate the household so I have no intention of moving again," Bron says.

"In my mind this place is just heaven, I can't imagine what would ever make me leave."