They have views across about 20 miles of hills, no utility bills, paddocks rich with blueberries and vegetables, a human tapestry of visitors from around the world and they happily buzz between five different jobs – all of them successful.
Nick Bray and Cynthia Lim are living the life that most of us want to have – or at least the life we think we want to have – after a bold move to the country in 2001.
Both had been working in the water industry, Cynthia as a sales rep across country Victoria, while Nick was enjoying a job in Melbourne at an environmental laboratory.
"We were living in Carlton and Cynthia would come home after each trip with all the stories of what she had seen, the people she had met, visiting their rural properties and veggie gardens and enjoying the pace of life in the country," Nick says.
"After a while I said, 'Why do you keep telling me all these stories?' and she said 'I think we should think about moving to the country.'
"I was very happy living in the city and didn't want to move to the country, so I said that I had some requirements. We would start off looking for a weekender, but it had to be no more than an hour from Melbourne. We looked at a whole range of places and at first we didn't like Seymour. We were used to Carlton café culture and a bit scared of committing to a place like this."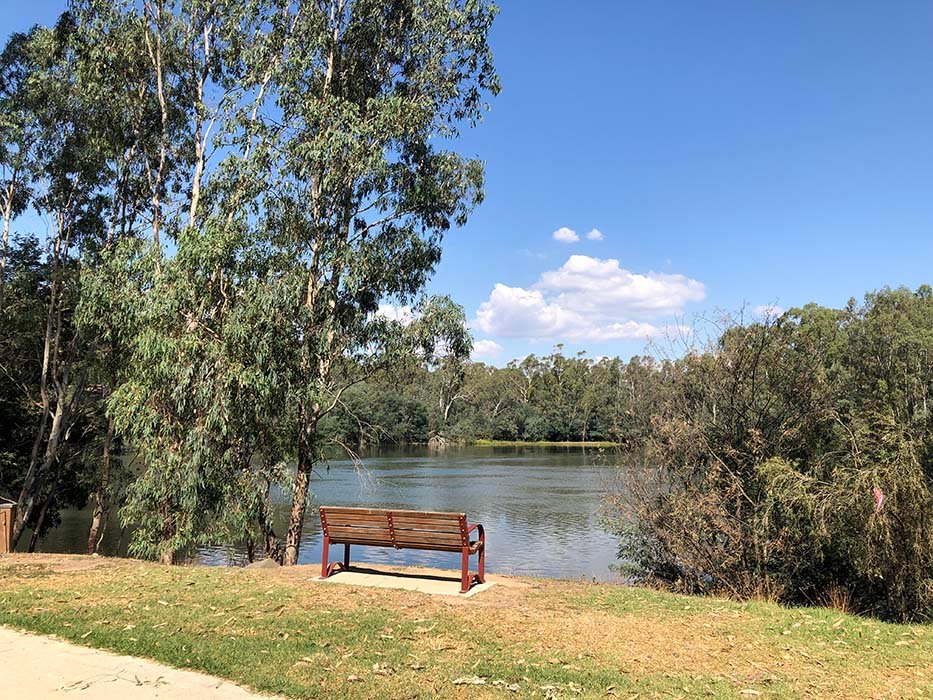 They found a property high on a hill outside Seymour for a great price and decided to move. Seymour is a fairly easy commute to Melbourne, and the couple could move to their new home, enabling Cynthia to travel fewer hours, while Nick started the commute.
The property was cheap for a reason. Close to the highway, on a very steep hill, it afforded magnificent views, but it was going to cost $45,000 to get electricity connected. Water was trucked in and the poorly designed new weatherboard home on the site had little insulation from the searing Summers and freezing Winters.
The barriers presented opportunities. Instead of committing to a life of bills, they put in an off-grid self-contained power system for half the cost of a mains electricity supply connection. They connected water tanks to the roof and harvested their own water and set about creating a thermally-efficient, gorgeous sustainable home made from straw bales that would be a treat to live in year-round.
The commute to Melbourne lasted two years for Nick, but as the couple settled into the property, they started to sense the potential.
"We were staring out the window, thinking, there is a lot of space out there, what about growing blueberries. We were not thinking about how steep the slope was or that the soil wasn't quite right, we just thought let's give it a go," Cynthia says.
Halfway through planting their planned acreage of blueberries the drought hit, halting their plans for a larger-scale blueberry operation. But rather than be deterred, the couple took the chance to diversify and created an extensive vegetable garden.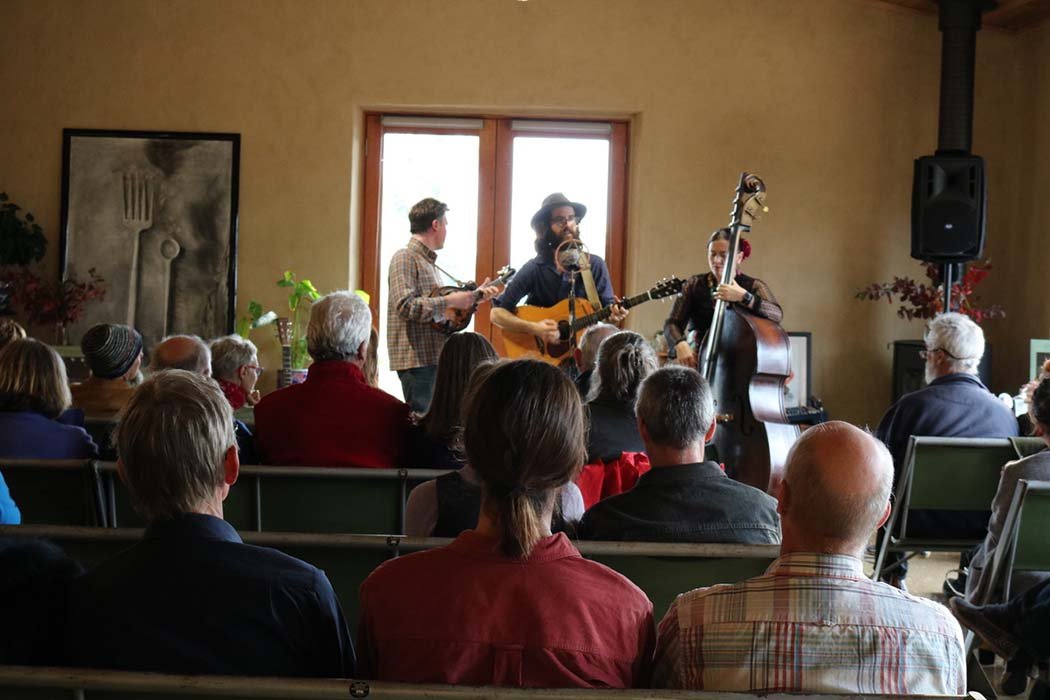 Bluetongue Berries - John Flanagan Trio playing in the great hall
In addition to their home, the couple built a large airy hall with views across the hills, which was initially to be a venue to host friends. After hosting volunteers from the WWOOF movement – people who volunteer to work on organic farms around the world in return for food and accommodation – Cynthia and Nick recognised how much they enjoyed hosting people, and the dining hall morphed into the Cantina, a dining and events venue which now hosts customers and performers on a regular basis.
Blue Tongue Berries has now earned an extensive following from people committed to organic farming, off-grid living, as well as diners and berry lovers.
The 20-acre organic farm provides a wide range of produce for the couple and customers and has also led them to establish the food eXchange radio show connecting people to local produce and a farmers' market in nearby Tallarook. The couple established the Seymour in Spring Festival to bring more people to Seymour and build a community sense of pride in 2018 and also run a marketing and consulting business called Out on a Lim.
With the NBN beaming a strong signal into their home from a nearby tower, Nick and Cynthia have no trouble running their richly productive ventures from their home HQ on the hill – and don't have much need for the proximity to Melbourne any more.
"We visited a restaurant in Melbourne recently and had the degustation menu and one of the dishes was these tomatoes, which everybody was just going crazy about the flavour and we were a bit startled, because they are grown by a farmer friend of ours across the river and we get to eat them all the time,"
Nick says "I studied in Melbourne's CBD, I lived and worked there, I know it well and I like it – but I just don't need it as much. The experience of being in a city is less and less where I want to be."
For more information about Nick and Cynthia's journey visit their websites Blue Tongue Berries and the food eXchange